About this guide
Welcome to the tax declaration guide! This entry is an introduction to a complete, step-by-step, English guide on how to file taxes in Switzerland.
The focus of this tax declaration guide is on canton Zurich. Most concepts and steps can be generalized to other cantons.
Official guidelines and disclaimer
The tax declaration guide on mypersonalfinance.ch is by no means an official one. The only official guide is the one that the tax authorities of your canton distribute. For canton Zurich and tax year 2019, this guide is a 48-page PDF. It's called Wegleitung zur Steuererklärung 2019 (guide for declaring taxes 2019). And it's available in German only. You can access it here, or download it from the link below. The tax office publishes a new version every year. Make sure you always use the most updated one.
The official guide (or whatever your tax office says) holds over everything you might read on this website. I am no accountant or tax advisor and waive all liability on others' tax filings. You are ultimately responsible for whatever you file in your tax declaration. You should take the guide on this website as an unofficial, secondary source of information.
Manual forms vs online tool
The first step in your tax filing process is an important one. You don't want to get it wrong. You want to use ZHprivateTax. ZHprivateTax is the official online tool you can use to file your taxes in canton Zurich. It replaces physical forms. You should use this tool to file your taxes and not the physical forms. Here's why:
The online tool comes with an input assistant. This is great. It means that the tool will automatically select the relevant forms for you based on a set of initial input data. If you go for manual forms, you have to figure out by yourself which forms are relevant. This can be cumbersome
The online tool can automatically populate financial data from an official database. This database is maintained by the Swiss tax authorities. Auto-population can be extremely useful and time-saving. Just picture the pain of manually fetching info at year-end. Stock prices, exchange rates, ex-dividend dates, dividend yields etc. You don't want to go through that. The online tool makes your life easier
With the online tool, you can easily use real time translators while filing your taxes. For example the one built in Google Chrome. This can be a life saver if you're not a native German speaker. Legal terms in a foreign language are complex. Auto-translation is definitely much handier than manually typing over mile-long German words from the physical forms
Getting started with ZHprivateTax
Create an account
Hopefully you're now convinced that you should file your taxes through ZHprivateTax. If this is the first time you use it, you'll have to create an account. Click on Login ZHprivateTax. From there click on Anmelden. Finally hit Registrieren.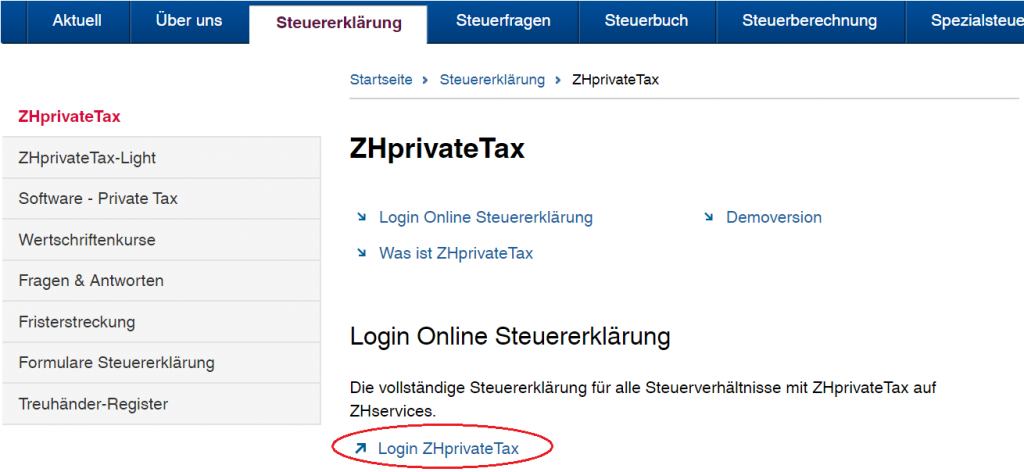 Start a new tax declaration
Once you have an account, you can log in and start a new tax declaration. I'd suggest to go with the full version (Vollversion der Steuererklärung), see picture below. You'll need a one-time access code (Zugangscode) to start the process. You should have received this from the Swiss tax authorities when they prompted you to file your taxes. They send it by post. The letter reads Zugangscode für die Online-Steuererklärung.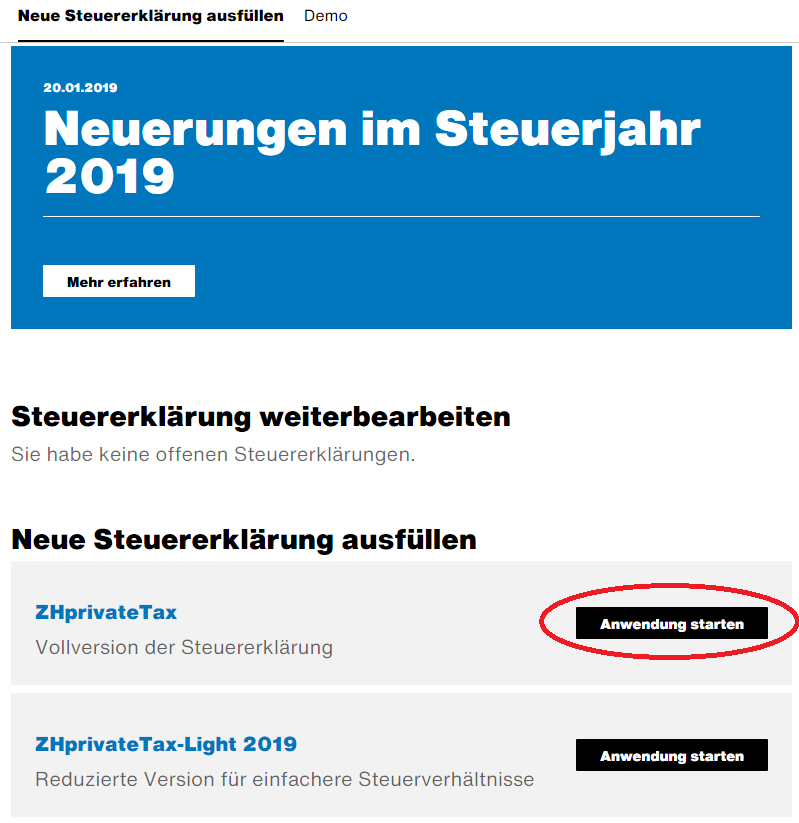 Did you manage to get the access code and open your tax declaration? If so, you want to go for the Eingabeassistent ( 'input assistant'). At the beginning of the tax declaration process, the input assistant will ask you a series of questions. They have to do with your income, expenses and assets. Any forms that are not relevant to you based on your input will be filtered out. As a result, you'll only have to fill in a subset of all tax forms from the get-go.
There's one more intro screen before formally kicking off your tax declaration. It simply explains how the tool works. The six main themes are always on top (1). The different forms within a given theme are on the left (2). Easy.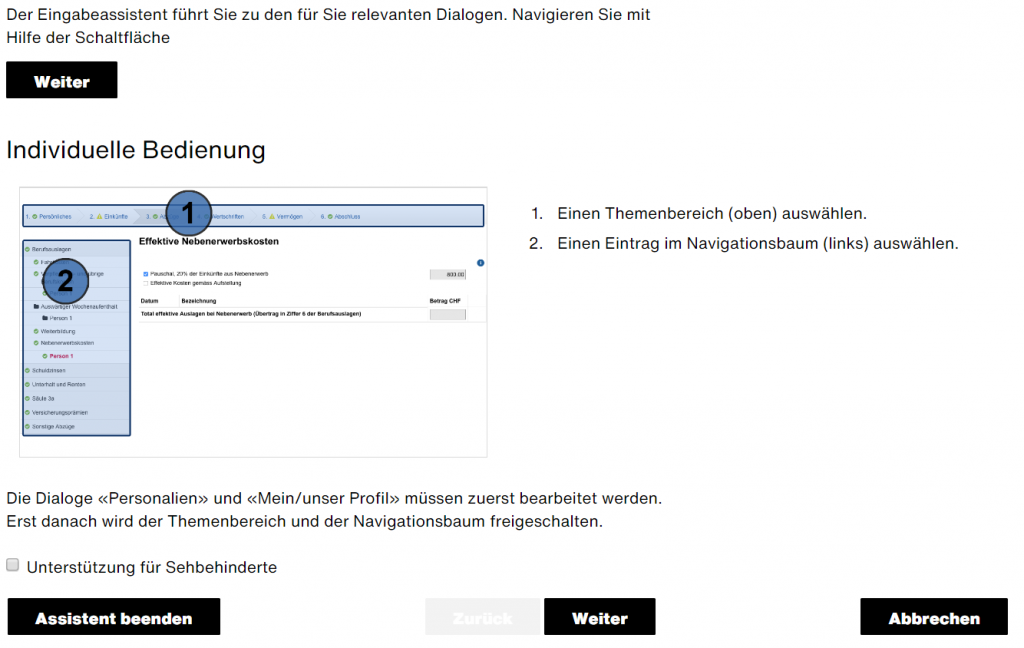 You can always come back
You don't have to complete your tax filing in one go. Your progress is automatically saved as you navigate through the forms. It can be resumed at any time by logging into the web tool again.
Themes in the tax declaration guide
There are six themes you'll go through while filing your taxes. This guide is structured along those themes. I'd recommended to go through them in order. There will likely be forms not applicable to you. However, I still recommend you skim through all the content. You wouldn't want to miss out on any juicy tax deduction.
The following links will be available at the bottom of each entry. They'll help you navigate the guide. You should head to Persönliches next.
Last updated on November 2, 2020