The first theme in the tax filing process deals with generic personal data (Persönliches). It's arguably the most important step. Why? Because the input you provide in this theme will decide which forms to navigate you through the rest of the process. We'll cover all forms as part of the tax declaration guide.
Personal details
Personalien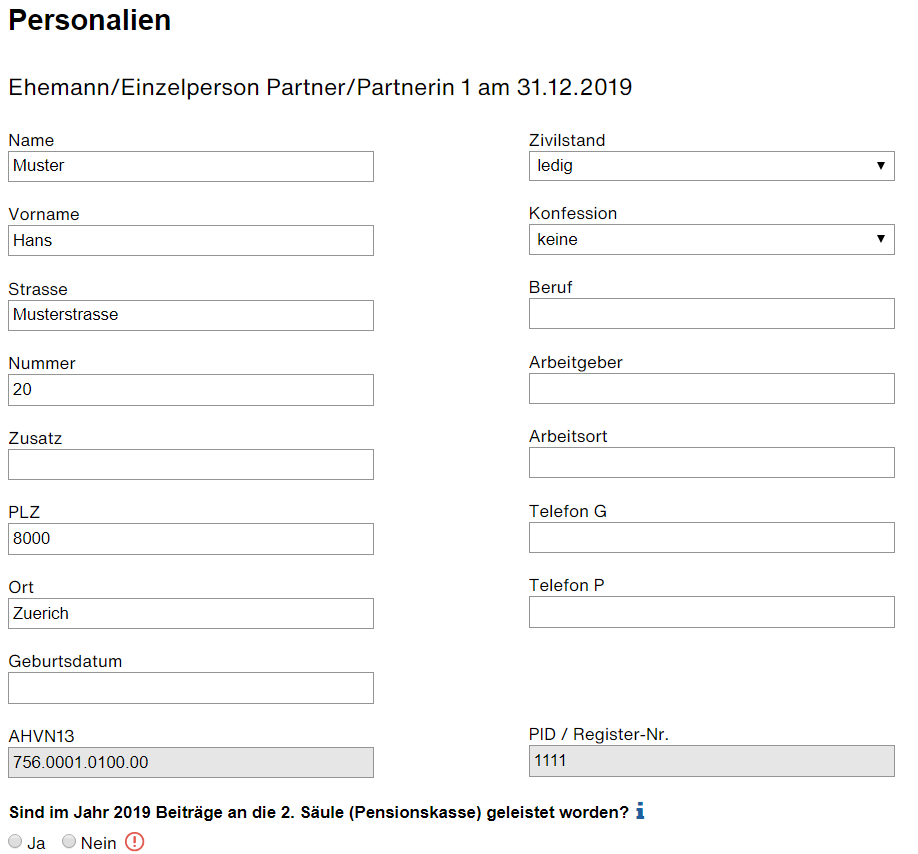 This form is quite straightforward. Besides personal data, the only field worth mentioning is the one about the pillar 2 contributions. This is the sentence at the end that reads Sind im Jahr 2019 Beiträge an die 2. Säule (Pensionskasse) geleistet worden? If any of your payslips during the year has deduction for pillar 2 (pension fund) the answer is yes. If you contributed directly to it, the answer is yes as well.
---
My/our profile
Mein/Unser Profil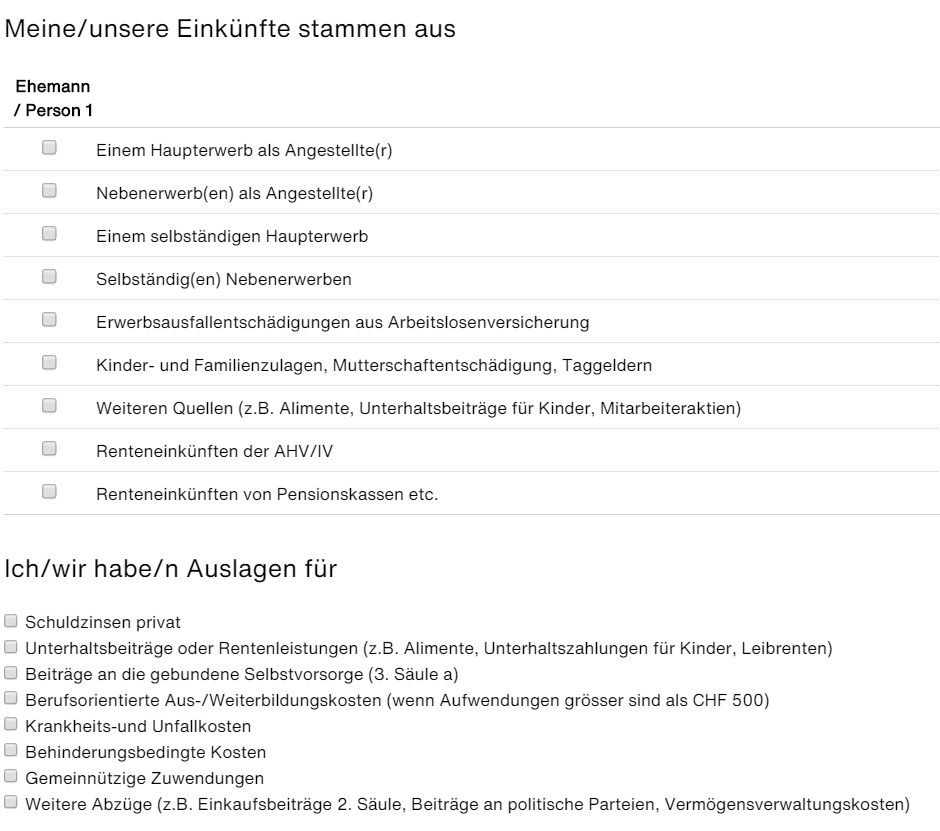 This is the famous input assistant. The check boxes ticked in here affect the rest of the forms that will pop up for you.
Ich/wir habe/n
Indicate whether you have children. It differentiates between minors and children that are still dependent because they haven't finished their education. There's also a distinction between children who live with you and those who don't.
Meine/unsere Einkünfte stammen aus
These are your sources of income over the year. They'll be used later to determine your taxable income. You're supposed to consider sources of income both in Switzerland and abroad. The check boxes read:
Einem Haupterwerb als Angestellte(r)
Tick if (part of) your income comes from a full-time job as an employee
Nebenerwerb(en) als Angestellte(r)
Tick if (part of) your income comes from a part-time (or side) job as an employee
Einem selbständigen Haupterwerb
Tick if (part of) your income comes from full-time self-employment. For example if you have your own company
Selbständig(en) Nebenerwerben
Tick if (part of) your income comes from part-time self-employment
Erwerbsausfallentschädigungen aus Arbeitslosenversicherung
Tick if (part of) your income comes from loss-of-income insurance
Kinder- und Familienzulagen, Mutterschaftentschädigung, Taggeldern
Tick if (part of) your income comes from allowances. For example maternity or daily allowances
Weiteren Quellen (z.B. Alimente, Unterhaltsbeiträge für Kinder, Mitarbeiteraktien)
Tick if (part of) your income comes from other sources. For example alimimonies, employee shares etc.
Renteneinkünften der AHV/IV
Tick if (part of) your income comes from AHV/IV (Swiss social security)
Renteneinkünften von Pensionskassen etc.
Tick if (part of) your income comes from a pension fund
Ich/wir habe/n Auslagen für
These are your expenses over the year. They'll be used later to determine which tax deductions are applicable to you. The check boxes read:
Schuldzinsen privat
Tick if you paid interests (e.g. mortgage, loan etc.)
Unterhaltsbeiträge oder Rentenleistungen (z.B. Alimente, Unterhaltszahlungen für Kinder, Leibrenten)
Tick if you provided support/maintenance contributions to others. The examples in the official guide include contributions to a divorced/separate spouse, contributions to minor children etc.
Berufsorientierte Aus-/Weiterbildungskosten (wenn Aufwendungen grösser sind als CHF 500)
Tick if you paid for work-oriented education/courses. For example, language courses, coding academy etc.
Krankheits-und Unfallkosten
Tick if you had illness (inc. medical/dental expenses) or accident expenses
Behinderungsbedingte Kosten
Tick if you had disability expenses
Gemeinnützige Zuwendungen
Tick if you made charity donations
Weitere Abzüge (z.B. Einkaufsbeiträge 2. Säule, Beiträge an politische Parteien, Vermögensverwaltungskosten)
Tick if you had other deductions. The examples mentioned are additional pillar 2 contributions, contributions to political parties and asset management costs. The last one is particularly interesting. If you hold securities such as funds or bonds you should tick this
Ich/wir besitze/n
These are your assets. Things you own. They'll be used later to determine your wealth tax. You must include wealth you have both in Switzerland and abroad. The check boxes read:
Einen elektronischen Steuerauszug
Tick if you already own an "electronic tax statement". I have never checked this box and am unsure under which situations its applicable. The official guidelines don't mention it either
Wertschriften und/oder Guthaben (z.B. Sparhefte, Bankkonten, Aktien etc.)
Tick if you have a bank account, shares, bonds etc. This pretty much applies to everyone
Ausländische Wertschriften mit pauschaler Steueranrechnung oder Rückbehalt
Tick if you have foreign securities with withholding tax. This will trigger a DA-1 form later on. A DA-1 form is used to recover withholding tax from US securities (e.g. ETFs). This entry explains why this is desirable
Bewegliches Vermögen wie z.B. Bargeld, Edelmetalle, Motorfahrzeuge etc.
Tick if you have movable assets such as cash (not in bank account), precious metals, cars etc.
Lebens- und Rentenversicherungen
Tick if you have life insurance or annuities
Eine oder mehrere Liegenschaften
Tick if you own real estate properties. To emphasize: this includes both in Switzerland or abroad
---
Tax representative
Vertreter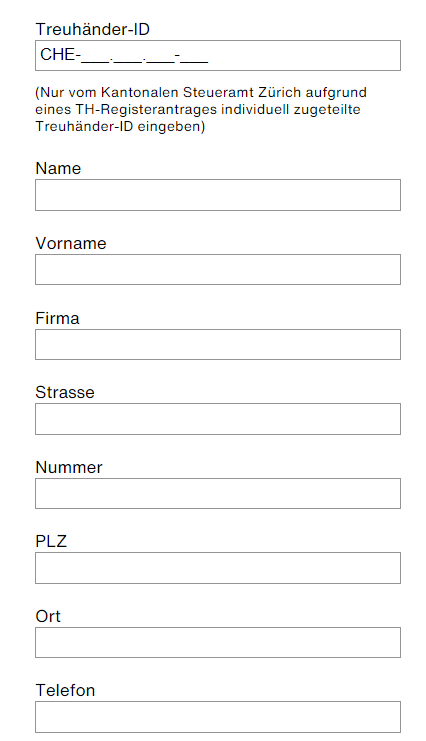 You can leave this blank if you're doing the tax declaration on your own. Which at this point I assume.
---
Personal data
Personendaten
The forms on children will pop up automatically if you earlier selected that you have children. These forms offer the first opportunity for tax deductions.
Children
If you have kids, you can deduct both childcare and children maintenance contributions.
Childcare costs (Fremdbetreuungskosten) are deductible up to CHF 10,100. A daycare center qualifies. This is only claimable until the minor's 14th birthday, and assumes that childcare is required due to employment, training, or disability. In addition, you'll have to attach proof of payment.
Children maintenance contributions (Unterhalt / Sorgerecht) could be payments you make to a spouse. The official guidelines distinguish whether you:
Live with you spouse or are widowed
Live alone with your children
Don't live with your children
Live with your children and your partner, but are not married
There are more sub-cases depending on whether you receive child support. Or depending on whether one/both parents have parental responsibility. In general, all cases are clear enough in the official guidelines. You can find them on p.24 in the 2019 version.
Regardless of the case, there's a different deduction for cantonal and federal income. The cantonal deduction is in the range of CHF 4.5-9k in canton Zurich. The federal deduction is in the range of CHF 3.2-6.5k. If a form allows to differentiate, then do.
Dependents
You should also indicate if you have any dependents under Unterstützte Personen. Dependents are those in need of financial aid you support. They can be minors or adults. They must be (partially) unable to work due to physical or mental reasons. You'll have to indicate the details of the dependent, the support provided and (possibly) proof of payment. Notice that there's a threshold to claim this deduction. The cantonal deduction required a minimum a payment of CHF 2.7k. This goes up to CHF 6.5k for the federal deduction.
---
Themes in the tax declaration guide
Persönliches (personal data)
Einkünfte (income)
Abzüge (deductions)
Wertschriften (securities)
Vermögen (wealth)
Abschluss (completion)
Last updated on April 30, 2020